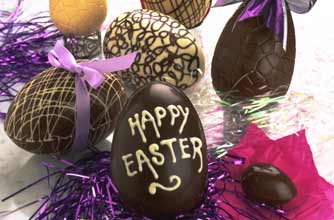 It's about to be Easter Sunday, which means stores and homes are full of creamy eggs, marshmallow peeps, chocolate and other indulgences which could easily throw your diabetes out of whack!
Never fear—instead of sharing another tantalizing recipe this week, I'm sharing my 6-step Diabetic Easter Survival Guide. Hope it helps and don't forget to schedule regular foot exams with your Houston podiatrist!
1. Opt for individually wrapped portions
Instead of diving into a bag of M&Ms or the like, choose chocolates that are individually wrapped. When you have to stop and remove packaging, it's much easier to stay mindful of your eating and exercise portion control.
2. Consider dark chocolate
Good quality dark chocolate will have less added sugar than milk or white chocolate.
Choose a dark chocolate with at least 70 per cent cocoa to enjoy some of chocolate's purported health benefits.
3. Sneak in some fruit
Instead of hunting for chocolate eggs, try melting some dark chocolate (see above) and dipping in fruit like berries or banana bites.
4. Make home a safe place: remove temptation
Stores and other people's homes are already full of treats—limit the amount of junk food you allow into your home and avoid keeping it out on display.
5. Balance things out
If Easter festivities last all weekend, pick one day on which you'll 'indulge,' then scale back on other days and up your movement to compensate.

6. Work the alternative Easter egg hunt
There's no rule stating you must hunt for chocolate eggs: why not seek out toys, plastic eggs or even healthier treats like fruits-and-nuts? Everyone in your family will benefit alongside you!