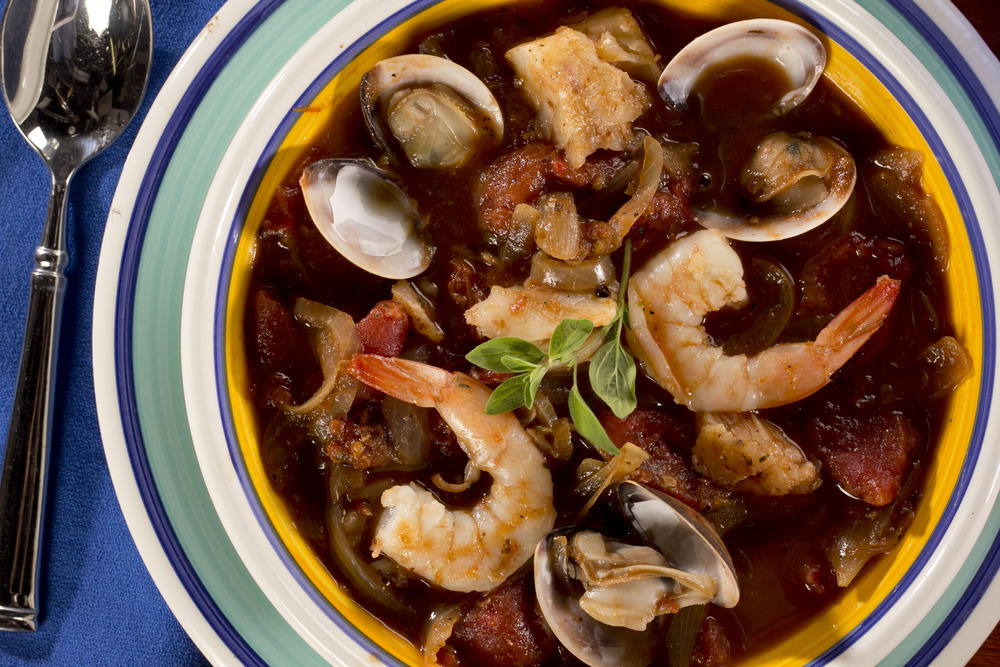 Fish is a great dietary staple for anyone trying to eat healthier, especially for diabetic patients! It can be tricky to get used to fish, however, so I like to find recipes that make this health star more palatable. Check out this Pheasant's Fish Stew from Everyday Diabetic Recipes—the shrimp and clams are nice little bonus ingredients!
Ingredients
1/2 pound fresh mushrooms, sliced
2 onions, thinly sliced
4 garlic cloves, minced
1 (28-ounce) can whole tomatoes, undrained and quartered
1/2 cup dry white wine
1/2 cup clam juice
2 tablespoons chopped fresh basil
1 tablespoon dried oregano
1 bay leaf
3/4 teaspoon black pepper
1 pound cod fillets, cut into 2-inch chunks
1/2 pound large shrimp, peeled and deveined, with tails left on
1 pound little neck clams
Directions
Spray a 6-qt. soup pot with nonstick cooking spray and heat over high heat.

Add the mushrooms, onions, and garlic, and cook for 4 to 6 minutes, or until the vegetables are tender, stirring often.

Stir in the tomatoes, wine, clam juice, basil, oregano, bay leaf, and pepper and bring to a boil.

Reduce the heat to low, cover, and simmer for 20 minutes. Uncover, increase the heat to high, and bring to a boil.

Add the fish and cook for 5 minutes. Add the shrimp and clams and cook for 3 minutes, or until the fish flakes easily with a fork, the shrimp are pink and cooked through, and the clams are open, stirring occasionally.