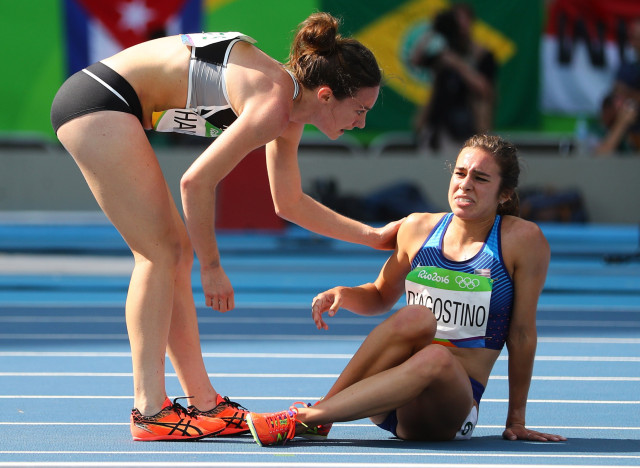 So much is said about the Olympic spirit, but with doping rumors, gunpoint muggings and green pools, the 2016 Rio Games have seemed to be less and less about that ideal athletic competition. Until, that is, this story came along…
While competing in the Women's 5000 meter qualifier race earlier this week, New Zealand runner Nikki Hamblin tripped on the track and fell down. USA's Abbey D'Agostino, running right behind her, fell over and badly injured her leg.
Their hopes of winning the heat dashed, the Olympic dream could have ended right there for these two woman, bruised, hurt and disappointed. But it didn't! Instead D'Agostino (who later had to be taken away in a wheelchair, that's how badly hurt she was) got up and reached out for Hamblin's hand. Moments later, she fell over in pain, only to be helped up again by Hambline. Together, they ran the final four laps on the track, finishing well behind the heat winner, but finishing nonetheless.
Even better news? The ladies still might get a chance to compete for a medal! After their inspiring finish in the qualifying round, both women filed protests and were granted exemptions, meaning they will be allowed to compete in tomorrow's final race (assuming they are healthy enough to do so.)
Hamblin, in commenting on the incident and her unlikely helper, pretty much summed up what the rest of us were thinking: "It's a moment that you'll never, ever forget for the rest of your life. That girl is the Olympic spirit right there."