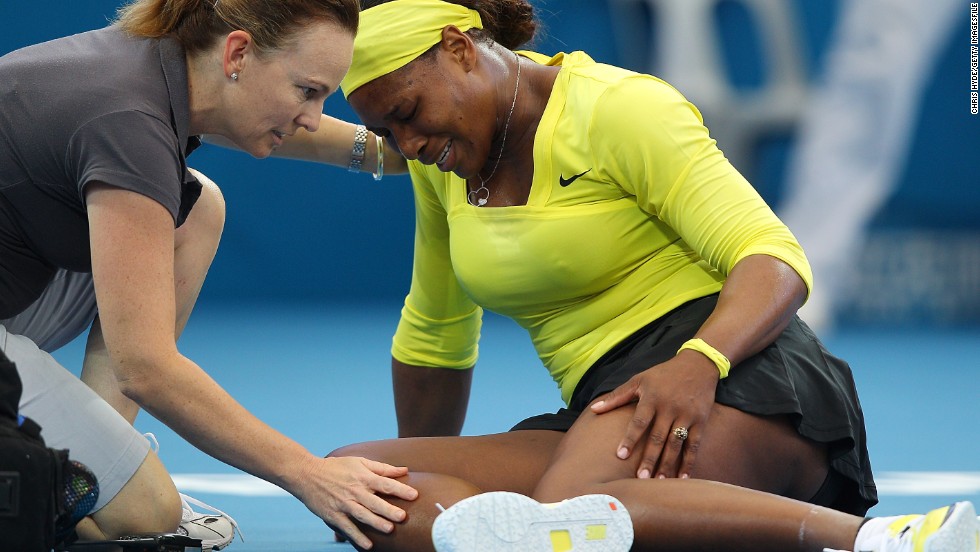 This just in: defending French Open singles champ (and all around tennis superstar) Serena Williams has a new obstacle standing in her way to repeat victory (and no, it's not sister Venus.)
In fact, Serena was playing a doubles match with her sis when she had to take a medical time out during the second set. Though it wasn't immediately clear what kind of injury had occurred, Serena's trainer taped up her foot and ankle before she returned to game play.
Despite her apparent foot pain, Serena went on to convert the game-winning break point against Jelena Ostapenko and Yulia Putintseva. Still, while Serena was able to pull out a win in this match, continuing to play hurt could become a major problem for her.
Some of the most common athletic foot and injuries include stress fractures, plantar fasciitis, Achilles tendinitis and ankle sprains. While many of these conditions don't require casting, they do put the athlete in need of close medical supervision.

If left untreated or if exercise is resumed prematurely, the injury can be further aggravated, meaning Serena could be in a heap of trouble if she's dealing with any of the injuries I frequently see in athletes. In my Houston podiatry practice, our goal is to work together with patients to minimize their downtime, getting them healed as quickly as possibly. Not only do we focus on healing the current injury, we also examine the training habits that might have led to the problem, taking measures to prevent injuries from reoccurring. We always say…we won't make you stop your training unless it is absolutely necessary. But it's important to remember that sometimes, it really is necessary.