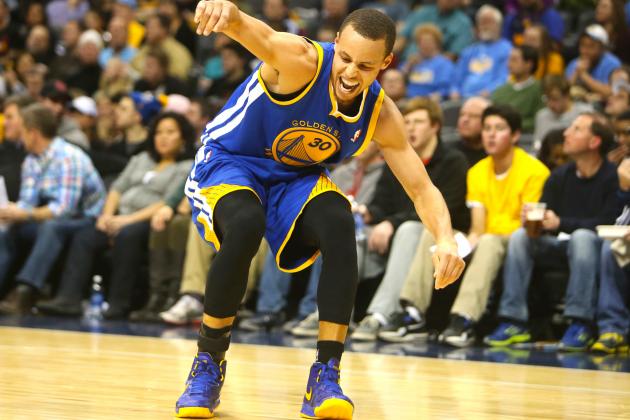 If you haven't heard of the Golden State Warrior's Steph Curry by now, you must have been hiding under a rock all year. He's the three-point king—even though his teammate Klay Thompson took that title at this year's All Star Game—and he helped lead to his team to a record breaking 73 wins this season.
Unfortunately, Curry appeared to twist his right ankle late in the second quarter of Game 1 against our own Houston Rockets. He played less than three minutes for the entire remainder of the game, which still ended in a blowout victory for the warriors, and was completely absent from Game 2, in which his team barely squeaked out a second victory.
In what has become typical Warriors custom, coach Steve Kerr is not saying much about his star player's injury. While official team sources referred to the injury as a 'tweak' or 'sprain,' Kerr described the following situation: "It's the back of the foot; it's underneath his ankle. It's something back there."
Unfortunately for Kerr, Curry and the Warriors, heel pain like the kind described above can be indicative of a far-more-serious injury than a mere ankle sprain: it could be a symptom of plantar fasciitis or even an Achilles problem. After all, Curry had surgery on a tendon in his ankle just four years ago, so the fact that he's missed 1.5 playoff games with this injury suggests the team is doing more than taking precautionary measures.
Regardless of Curry's exact injury, and regardless of whether he takes the court this evening, I have to express my deepest respect for the decisions being made by the Warriors. Not too many coaches would have the courage to sit their star during playoffs season, saying: "He's got a lot of basketball ahead of him, and there's plenty of cases in the past where people played through stuff and it didn't turn out so well."
I admire his foresight and wish Curry a full recovery. But still, I gotta say…let's go Rockets!