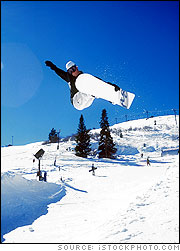 The Snowboarding Halfpipe event became an Olympic event in 1998. It was the beginning of the traditional Olympics embracing the less traditional X-games. Derived from skateboarding, snowboarding was slow to be embraced by ski slopes. In fact, there was much animosity between skiers and snowboarders. Some ski areas actually banned snowboarders from their facilities.

Today, more than 97% of ski areas embrace snowboarding. Half of those have special areas specific for snowboarding, including rails, jumps, and halfpipes.

Injuries most commonly associated with snowboarding include fractures of the wrist and ankles. The best way to avoid injury is to use proper form and protective equipment. Snowboarding boots should be well-fitted, with toes snug in the end of the boot to minimize movement.


The Gilden Tree Exfoliating Foot Scrub is a creamy, deep-cleansing scrub that leaves skin sensuously soft and velvety. This scrub is wonderful to use - whipped, so it spreads easily, creamy enough to be moisturizing on its own, and with very even, gentle pumice to exfoliate dry skin on feet and body. It's made with with Certified Organic Aloe Vera, but with a cream base, not soap so it leaves skin softer and more moisturized.