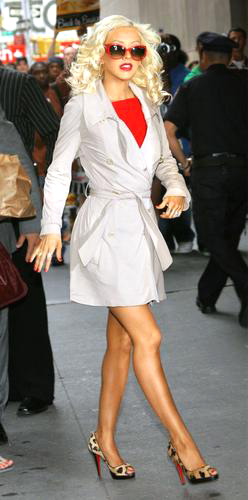 This Friday, Oprah Winfrey will be hosting her show from Radio City Music Hall, home of the famous Radio City Rockettes, and will be interviewing Christina Aguilera. Although now I live in Houston, TX where I am a foot surgeon and run a podiatry practice, I am originally from New Jersey, right outside of New York City.

When I think of the Rockettes, I remember them high kicking from one number to another, all while wearing VERY high heels. Christina Aguilera also wears high heels on stage, dancing through her entire show. What's amazing is that many women wear high heels like these all day every day at work. In fact, the average woman wears even higher heels than she would normally when she goes out for the evening, even when she may be dancing.

Wearing high heels too often do have their drawbacks. By having the heel elevated, it causes the foot to forced into an unnatural position leading to a shortening of the Achilles tendon. This tendon shortening can make it difficult, and for some women even impossible, to wear a flat or low heeled shoe...even a tennis shoe. Doing so often causes a pain where the Achilles tendon attaches to the heel bone, known as Achilles tendinitis, and also can cause a pain in the front of the leg, known as shin splints.

There has been a recent trend of young girls wearing high heeled shoes. This is even more devastating. When girls start to wear high heels so young, the shortening of the Achilles tendon is more pronounced and habitual use may even require surgery to correct. No young girls, or even teenagers, should wear high heeled shoes except on very rare occasions.

Finally, when walking for long periods of time shopping, and especially dancing, hi heeled shoes are not your best choice. Don't get me wrong, I understand the need and desire to wear an attractive shoe. Most important is that you choose a shoe that you can wear throughout the day without pain. If you feel like you can't wait to get your shoes off at the end of the day, and feel tremendous relief when you do, then you need to put more thought into your shoe choice.