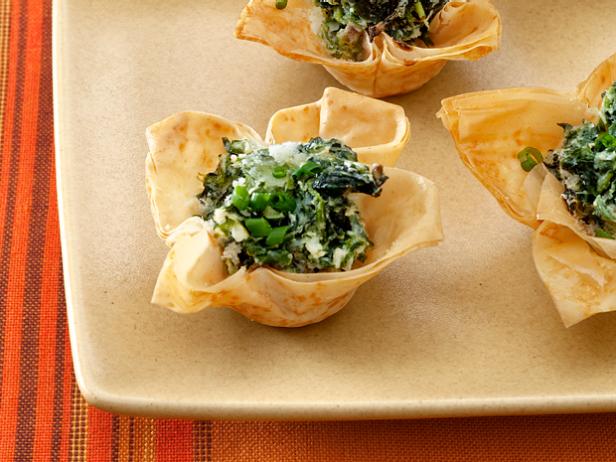 Christmas is just days away, and if you're hosting family members you're likely in need of some great appetizer ideas. Check out this Spinach and Goat Cheese tartlet from the Food Network: it's pretty, tasty and, as a bonus, completely diabetic friendly! Merry Christmas and be sure to check out the rest of our diabetic-friendly Christmas recipes over on Pinterest!
Ingredients
• 4 tablespoons unsalted butter
• 3 sheets frozen phyllo dough, thawed
• 2 tablespoons grated parmesan cheese
• Vegetable oil, for brushing
• 1 large shallot, minced
• 1 clove garlic, minced
• 1 teaspoon all-purpose flour
• 1/4 cup milk
• Pinch of freshly grated nutmeg
• Kosher salt and freshly ground pepper
• 3 1/2 ounces mild goat cheese, softened
• 2 teaspoons finely grated lemon zest
• 1 tablespoon white wine vinegar
• 2 large eggs, separated
• 1 10-ounce box frozen chopped spinach, thawed and squeezed dry
• Chopped chives, for garnish
Directions
1. Preheat the oven to 350 degrees. Melt 1 tablespoon butter. Place 1 phyllo sheet on a clean surface (cover the other sheets with a damp towel), brush with melted butter and sprinkle with 1 teaspoon parmesan. Cover with another phyllo sheet, brush with more butter and sprinkle with another teaspoon parmesan. Top with the remaining phyllo sheet and brush with butter. Cut the phyllo stack into 24 squares, about 3 inches each. Brush a 24-cup mini muffin tin with oil, then firmly press a phyllo square, buttered-side down, into each cup. Bake until golden, 10 minutes.
2. Meanwhile, heat the remaining 3 tablespoons butter in a saucepan over medium heat. Add the shallot and garlic and cook until translucent. Stir in the flour, then add the milk and stir until the mixture is smooth, 1 minute. Add the nutmeg, 1/2 teaspoon salt, and pepper to taste. Stir in the goat cheese, lemon zest and vinegar until the cheese melts. Remove from the heat and mix in the egg yolks, then the spinach.
3.Beat the egg whites to stiff peaks and fold into the spinach filling. Spoon about 1 tablespoon filling into each phyllo cup and top with the remaining parmesan. Bake until the filling is set, 15 minutes. Cool slightly in the pan; remove and top with the chives.