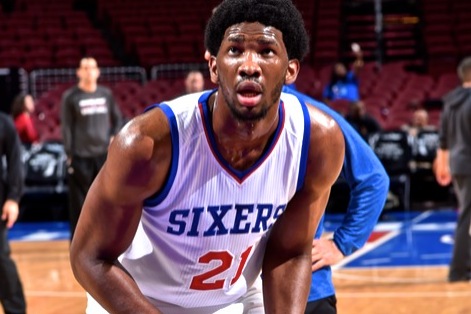 Last year at the NBA draft, the Philadelphia 76ers took a chance and drafted Joel Embiid, despite the fact that the Center had just been diagnosed with a broken navicular bone and would need to have surgery (the navicular bone is a boat-shaped bone in the ankle. It can be a tricky injury to overcome, as you'll see from the rest of this post.)

Embiid did not play a single minute in the 2014-15 season, his first as a 76er. Worse, reports will tell you that, during that year on the bench, he missed rehab appointments, got into fights with coaching staff members and was pelted with fines.

And now, there's more bad news. A statement released by Sam Hinkie, the 76ers GM, this week revealed that: "A series of routine exams with…a standard CT on Joel's right foot revealed less healing than anticipated at this point. Our priority remains providing Joel with every opportunity to ensure he has a long and successful NBA career, and as such, these findings cause us to pause and reassess his current activities."

Uh-oh…sounds like Embiid might be out for even longer than anyone could have expected. Without seeing his scans or being directly involved in the case, it's hard for me to say why Embiid isn't getting better. I do know that foot injuries can be career-ending for athletes if not treated and rehabbed appropriately, which is why I treat athletic patients with incredible caution.

As someone who knows the seriousness of an ankle injury to a potential all-star, my heart goes out to Embiid and the 76ers. Here's hoping it's not as bad as we all fear.