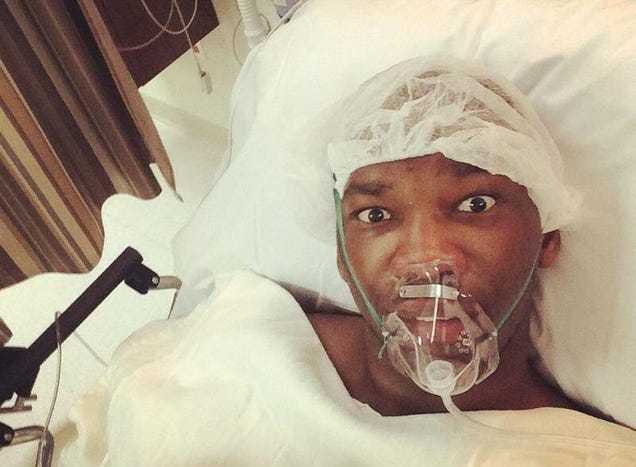 Just days before the NBA-draft, projected number one overall pick Joel Embiid received some devastating news: he had a stress fracture in the navicular bone of his right foot and would have to have surgery to repair it.
In the wake of the devastating news, Embiid's star fell a bit, but not as much as expected; instead of being the first player to be drafted, he was selected by the Philadelphia 76ers at the number three spot.
Now, for the first time since the surgery, Embiid's doctor, Richard Ferkel (who's also treated Ray Allen and Manu Ginobli) is speaking out about how he treated his 7-foot patient from Cameroon and what he sees in the young player's future.
In a phone interview published on Philly.com, Ferkel explained that after putting two screws into Embiid's foot to stabilize it, he has placed the 76ers draftee into a five-to-eight month rehabilitation program. During the first six weeks, he can't put any weight on his foot. Once that period is up, he'll be able to put on a special boot and be able to train both in the pool and on an anti-gravity treadmill (an awesome treadmill that has an anti-gravity chamber around the legs to take all body weight pressure off the injured runner.) After 12 to 16 weeks, Embiid will start a regular running program while Ferkel uses an ultrasound stimulator to promote new bone growth and hasten his healing. Now, "Once he's fully healed, his chances of having a long career are very good," Ferkel says.
While an elite athlete like Joel Embiid will have a hastened surgery recovery program, any patient embarking on foot surgery should select a doctor that will help craft a realistic and safe rehab program.
As your Houston podiatrist, I stand beside you from the time of pre-operative exams until your rehab is complete. If you are considering foot surgery, schedule an appointment with Dr. Andrew Schneider today for support that lasts throughout your recovery period.