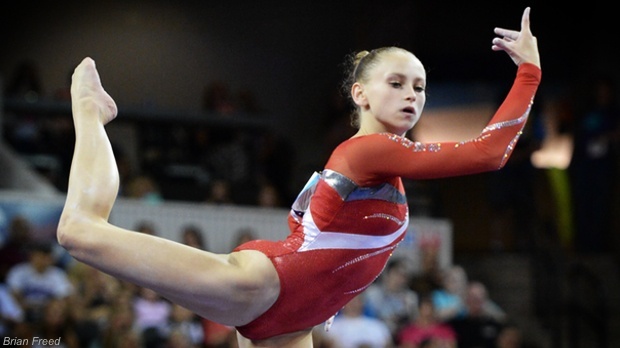 Unless it's an Olympic year, few of us actively follow competitive gymnastics, but for those of you who watched the amazing successes enjoyed by the U.S team in the 2012 London summer Olympics, you'll be sad to hear that one of their newest stars has badly hurt herself.
Sizteen-year-old Rachel Gowey, who trains with gold-medalist Gabby Douglas, broke her ankle last week, after she experienced a short landing on her beam dismount at the U.S Gymnastics Championship. Explaining that she would now be out of commission for the upcoming world championships in Rio, U.S. National Team coordinator Martha Karolyi said, "It's a big shame because she is one of the girls who came in really strong this year."
Unfortunately, injuries to the foot and ankle are common in gymnastics. Sprains happen often, as do fractures and Achilles tendon strains or ruptures. Here are some steps gymnasts can take to prevent such injuries, courtesy of Stop Sports Injuries:
Wearing required safety gear for all training sessions and competitions, including foot and ankle braces as needed.
Never train when in pain — if you are hurt, see your Houston podiatrist and follow all instructions carefully
Inspect equipment to ensure that it is in good condition before getting started
Insist on spotters when you're trying a new move
Warm up your muscles with light aerobic exercise, such as jumping jacks or running in place, before beginning training or new activities
If you have already suffered a foot or ankle injury while doing gymnastics, Dr. Andrew Schneider can help. Schedule an appointment as soon as possible for a complete evaluation.