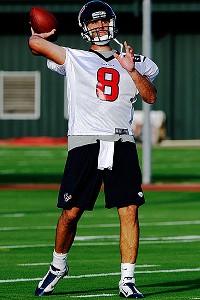 As football season rapidly approaches (I have received my Houston Texans season tickets already!) we continue to look for information about Houston Texans' quarterback Matt Schaub. Schaub suffered a serious Lisfranc injury last season which required foot surgery to repair. Approximately one month ago, Schaub reported that the foot was 100% and had been working out, although separate from the rest of the team.
Schaub has started working out with the team in the mornings, according to Coach Gary Kubiak, and is laying a bit lower in the afternoon. Schaub's attitude towards his injured foot is excellent. He feels that he is not limited by the injury or pain at all. He is, however, wearing a custom foot orthotic to help to provide stability to his feet and help to minimize the chances of reinjury.
As a fan from the start of the Houston Texans franchise, I hope that Matt Schaub has had a complete recovery and will lead our team into the playoffs and to our first Super Bowl appearance and victory. As a podiatrist in Houston Texas, I want to be able to show my patients how they too can recover from a severe injury such as this.