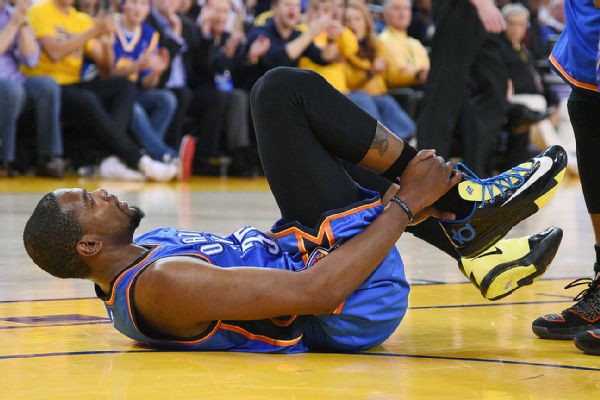 It's only been a few weeks since Kevin Durant returned to the Oklahoma City Thunder's lineup after missing 17 games due to a broken right foot, but now the NBA super-star has suffered a major setback.
During last week's game against the Golden State Warriors, Durant was driving to the basket when he stepped on an opponent's left foot and went down, grabbing his right ankle. He lay on the ground in pain, had to rely on teammates to walk him to the bench and then hobbled off the court at half-time, not returning to play in the second half.
Thankfully, reports revealed that he only had a mild sprain, but, as a Houston podiatrist, I see this development as a potential cause for concern.
As anyone who has ever tried to come back from a sports injury knows, even once your broken, strained or sprained limb has healed, it will take some time for it to regain its pre-injury level of strength. While I don't doubt for a moment that Thunder trainers are carefully watching Durant to make sure he continues along the road to a full recovery, it is worrisome that, less than a month after returning to play, he has already gotten injured on the same foot as the original fracture. The more times one foot is injured, the less likely it is that it will ever have the chance to fully heal.
Taking time to regain strength in an injured limb is one of the keys to making a full recovery after breaking or spraining a foot or ankle. If you are dealing with a foot injury and want expert guidance during the critical recovery period, schedule an appointment with Dr. Andrew Schneider today.