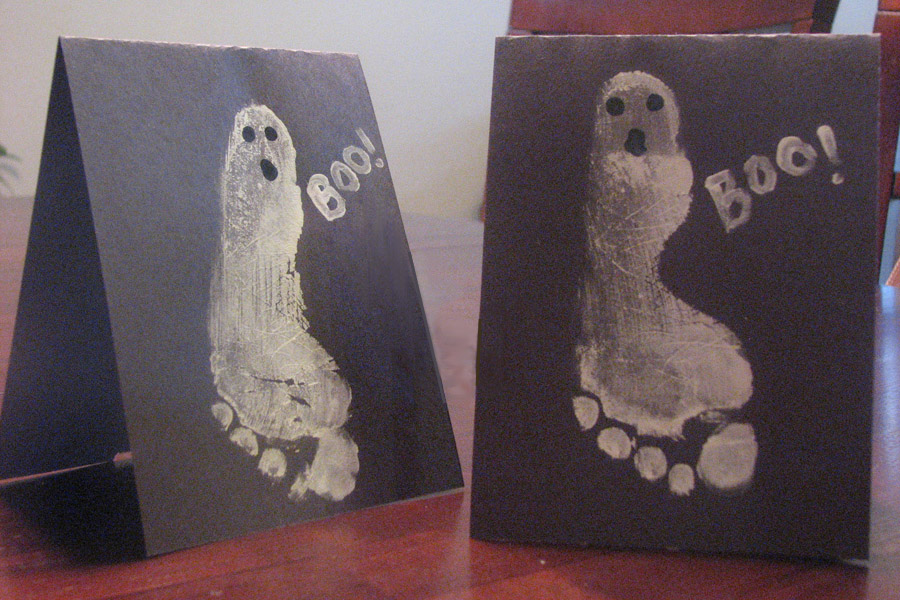 September's almost done and that means the Halloween frenzy is about to begin. If you're one of those super-awesome people who gets totally into the holiday and turns your house into a fright-scene for the whole month of October (and beyond) you're going to love this craft—it's a great way to preserve the memory of your children's growing feet while doubling as a cheap and adorable Halloween decoration for your walls or front door. Read on for the Easy Footprint Ghost Craft instructions, courtesy of DLTK:
Materials:
Black construction paper
Black marker or paint
White paintlarge ice cream container lid or sponge
Paint brush
Your child's foot
Instructions:
•Put a piece of dark paper down on the floor (you may want to cover a small area with newspaper to keep things clean).

•Spread white paint in a thin layer on a large ice cream container lid and have the child dip their foot in. Help them roll their foot inward to get paint on their instep as well (TIP: tell them to put their knees together while keeping their feet on the floor).
OR
•Use a sponge paintbrush (about 25 cents each at your local hardware or craft store) to spread some white paint onto the child's foot.

•Have the child step onto the dark paper. Again, help them roll their foot inward so their instep stamps too (otherwise your ghost's body will have a bit of a blank spot in the middle).

•Let paint dry (while cleaning up). Use black marker or paint to blob on two eyes and a mouth.
This foot craft may be scary, but going to the doctor shouldn't be. If your little one is having foot pain, schedule an appointment for an evaluation with Dr. Schneider. I'm an experienced podiatrist, but I'm also a dad, so I know how to make going to the doctor fun instead of frightening.