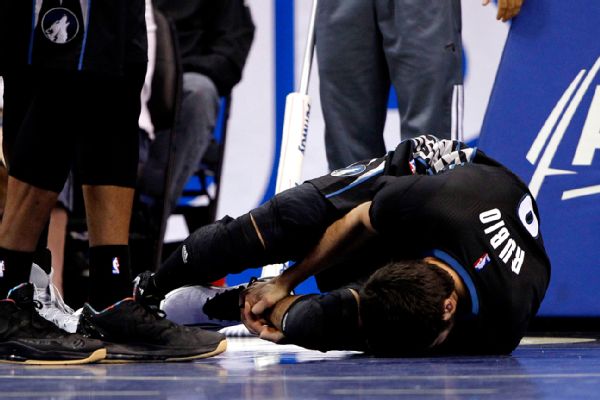 I know there are a lot of you out there who will sprain your ankle while out walking, running or playing sports and think—no big deal, I can take care of this myself with a little ice and some down time.
Well, that may be true sometimes, but sometimes a sprained ankle is a really big deal. Just ask Ricky Rubio.
Seven weeks ago, the Minnesota Timberwolves' point guard sprained his ankle during a game against the Orlando Magic and he has not played a moment since. Originally, the injured player had thought he'd be able to return by Christmas, but now he's being more reticent about when he can get back to playing.
He's able to run again, but all he will say about getting back on the court is: ""I've been saying it's two weeks for the last month. I don't want to say any more dates... I go as my body will let me do."
And apparently his body still won't let him do that much: "I can't cut and if I'm running and I have to stop right away, I have to take two, three extra steps," he explained, trying to give the press an idea of why he still wasn't getting back on the court.
So, as you can see, sometimes a sprained ankle goes well beyond your ability to self-treat the injury. And here's the thing—there's no real way to tell how bad a foot or ankle injury is until you've been seen by your Houston podiatrist. So if you have foot pain and suspect you may have sprained your ankle, don't try to walk it off call our office and schedule an appointment with Dr. Andrew Schneider immediately.