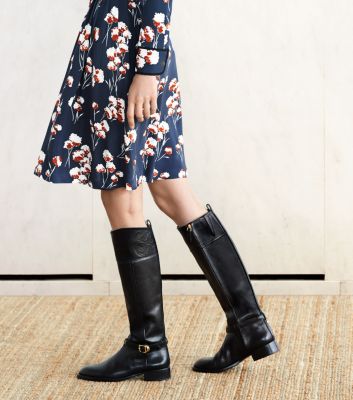 Without a doubt, holiday party season has arrived and, with it, the dilemma over what shoes to where for which occasion.
For many women, style will win out over comfort and high heels will be the shoe choice every time; as your Houston podiatrist, I'm here to give you other options that will look just as great without hurting your feet as you stand around the eggnog table for hours.
The Riding Boot
Riding boots are the perfect pair of shoes for any event from super casual to dressy-cas. Not only can this of-the-moment shoe style pair with anything from leggings and jeans to full skirts and mini-dresses, it also strikes the perfect balance of a low heel that offers just enough arch support without putting your foot at a height and ankle that can cause you foot pain and, over time, other problems like bunions and Achilles tendon inflammation. Be sure to choose a well-fitted pair that won't slip and slide, leaving you with blisters, and opt for natural, breathable materials like leather that won't make your feet sweat and put you at risk for athlete's foot (n.b.: if you do sweat in your shoes, be sure to spray them with an anti-fungal product before pulling them on for your next event.)
The Dressy Oxford
If boots aren't your style (or are out of your price range) consider a dressed up Oxford for your semi-formal holiday party. Why are these shoes so fantastic? Not only are they stylistically unique, but they eschew the pointy-toe, hammertoe-inducing look for a wonderfully-roomy round toe-box. Oxfords can, however, be tricky to work with, so be sure to follow these style rules if pairing a skirt or dress with these kicks: opt for super-feminine styles and above the knee hemline to snag a look that's fun and festive instead of boarding-school chic.
The Kitten Heel
On occasions when nothing but a high-heeled dress shoe will do, there are still ways you can maximize comfort and minimize damage to your feet. According to the American Academy of Orthopedic Surgeons, shoes with a heel height of three inches or higher put seven times the pressure on the balls of your feet as compared to flats. A kitten heel is still formal, but will minimize the damage to your feet while allowing you to enjoy an evening of dinner, dancing or whatever else your event may have in store.
Want more ideas on how to protect your feet or how to heal them if these suggestions catch you too late in the shoe-related foot pain game? Schedule an appointment with Dr. Andrew Schneider today to help get you walking comfortably again.