Christmas is just weeks away, and if you're hosting family members you're likely starting to feel some of the pressure of this happy but hectic holiday season. So, before I get down to the business of helping you menu-plan with diabetic friendly recipes, I want to share some tips and strategies, adapted from Health.com, that will help you manage your stress during the holidays!
10 Coping Tips for Holiday Stress
1. Get Some Sun!
Luckily for us Houstonians, it isn't difficult to find a sunny day in December. During this stressful holiday period, however, it's important to actually stand in that sunlight--ideally outdoors, but if all else fails, at your window. Sunlight is known to boost your body's production of serotonin, a feel-good compound that is bound to boost your mood and lift your spirits.
2. Take a Walk
While all exercise can have a positive impact on your mood (and your waistline--buh-bye, holiday cookies!) walking is particularly effective because the repetitive motion of your stride helps calm your brain, counteracting your anxiety and even helping improve the quality of your sleep!
3. Squeeze in Stress Relief
This trick may sound crazy, but it actually works: next time you're feeling overwhelmed, grab the fleshy spot on your hand, between your thumb and pointer finger, and apply firm pressure. Hold this squeeze for at least 30 seconds, while breathing deeply, and you'll feel calmer and more centered afterwards.
4. Just Say No
Promise yourself that you'll turn down at least one request this season: whether its a party invitation, a plea to volunteer at your child's school, or even a much-demanded gift request. The simple act of taking control of your time, schedule and spending will help make the entire season feel more manageable.
5. Find a New Tradition
If old holiday rituals leave you feeling sad or down, try embracing a new tradition this season. Learn how other cultures mark this time of year, or invite over a group of friends or colleagues to begin a new holiday tradition.
6. Ditch your Screens
Staying hyper-connected can leave you in a state of heightened stress: promise yourself that you'll ignore your phone or iPad for the entire duration of holiday gatherings. You'll be amazed how real-life connections help you feel grounded and calm, instead of the buzzed and anxious feeling you're left with after tech-based interactions
7. Spice Things Up.
Grab a plate of hot chicken, or reach for the Sriracha with that sushi platter--spicy foods trigger the release of endorphins in your body!
8. Blast Your Favorite Play List
Listening to music you like actually has a clinical effect on your body: it relaxes your blood vessels (and you!) for better blood flow and improved mood!
9. Slow Down
In between all those parties and shopping trips, block off chunks of relaxing time on your calendar. If you don't schedule it, down time will never happen, but it's crucial if you want to stay calm and relaxed throughout the holiday marathon.
10. Think Good Thoughts
As cheesy as it may sound, positive thinking is crucial when it comes to coping with holiday stress. Focusing on all the wonderful parts of the season will help you cope better when less-thrilling events come up. Remember, you can't control every interaction you have with others at this time of year, but your thoughts are always in your control!

Perfect Christmas Appetizer for Diabetics
Now that we've shared some coping tips for holiday stress, let's get down to the food of the season! Are you in need of some great appetizer ideas? Check out this Spinach and Goat Cheese tartlet from the Food Network: it's pretty, tasty and, as a bonus, completely diabetic friendly! Merry Christmas, and be sure to check out the rest of our diabetic-friendly Christmas recipes over on Pinterest!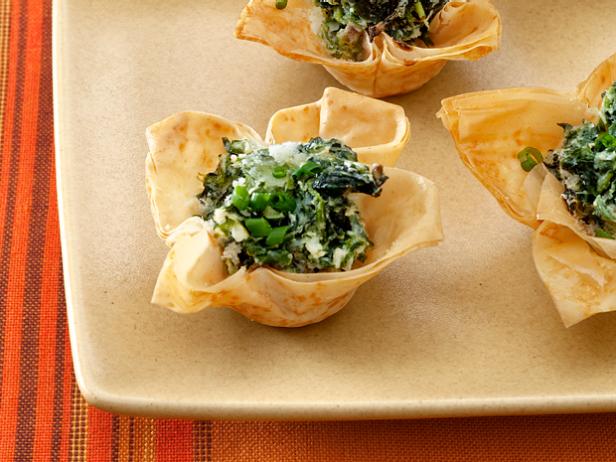 Ingredients
• 4 tablespoons unsalted butter
• 3 sheets frozen phyllo dough, thawed
• 2 tablespoons grated parmesan cheese
• Vegetable oil, for brushing
• 1 large shallot, minced
• 1 clove garlic, minced
• 1 teaspoon all-purpose flour
• 1/4 cup milk
• Pinch of freshly grated nutmeg
• Kosher salt and freshly ground pepper
• 3 1/2 ounces mild goat cheese, softened
• 2 teaspoons finely grated lemon zest
• 1 tablespoon white wine vinegar
• 2 large eggs, separated
• 1 10-ounce box frozen chopped spinach, thawed and squeezed dry
• Chopped chives, for garnish
Directions
1. Preheat the oven to 350 degrees. Melt 1 tablespoon butter. Place 1 phyllo sheet on a clean surface (cover the other sheets with a damp towel), brush with melted butter and sprinkle with 1 teaspoon parmesan. Cover with another phyllo sheet, brush with more butter and sprinkle with another teaspoon parmesan. Top with the remaining phyllo sheet and brush with butter. Cut the phyllo stack into 24 squares, about 3 inches each. Brush a 24-cup mini muffin tin with oil, then firmly press a phyllo square, buttered-side down, into each cup. Bake until golden, 10 minutes.
2. Meanwhile, heat the remaining 3 tablespoons butter in a saucepan over medium heat. Add the shallot and garlic and cook until translucent. Stir in the flour, then add the milk and stir until the mixture is smooth, 1 minute. Add the nutmeg, 1/2 teaspoon salt, and pepper to taste. Stir in the goat cheese, lemon zest and vinegar until the cheese melts. Remove from the heat and mix in the egg yolks, then the spinach.
3.Beat the egg whites to stiff peaks and fold into the spinach filling. Spoon about 1 tablespoon filling into each phyllo cup and top with the remaining parmesan. Bake until the filling is set, 15 minutes. Cool slightly in the pan; remove and top with the chives.