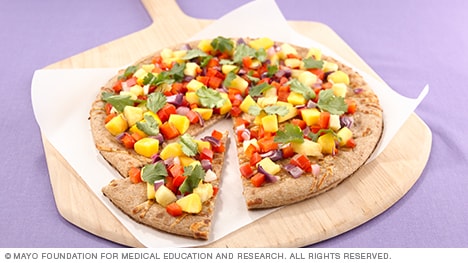 We all love a slice or two of pizza every now and then, but if you're living with diabetes, the carb/fat combo of even one small piece of the pie could throw your entire meal plan out of whack. Can't live without the cheesy goodness? Don't worry! The Mayo clinic has you covered with their Mango Salsa Pizza, just 4 grams of fat and 45g of carbs for 2 slices!
Ingredients
1 cup chopped red or green bell peppers
1/2 cup minced onion
1/2 cup mango, seeded, peeled and chopped
1/2 cup pineapple tidbits
1 tablespoon lime juice
1/2 cup fresh cilantro, chopped
1 12-inch prepared whole-grain pizza crust, purchased or made from a mix
Directions
Preheat the oven to 425 F. Lightly coat a 12-inch round baking pan with cooking spray.
In a small bowl, mix together the peppers, onions, mango, pineapple, lime juice and cilantro. Set aside.
Roll out dough and press into the baking pan. Place in the oven and cook about 15 minutes.
Take the pizza crust out of the oven and spread with mango salsa. Place the pizza back into the oven and bake until the toppings are hot and the crust is browned, about 5 to 10 minutes.
Cut the pizza into 8 even slices and serve immediately.