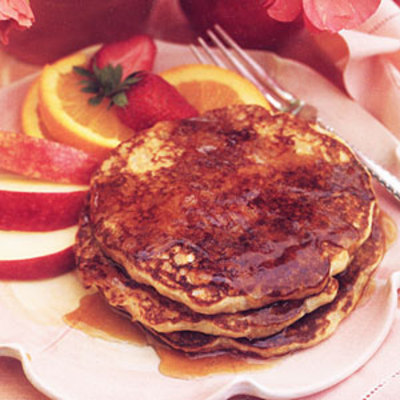 We all know that breakfast is the most important meal of the day, but how many of us put in the effort to start our mornings healthfully and deliciously?

Why not get make your first diabetic food diary entry for the day a great one with these Applesauce Pancakes from Health.com.

Servings: 10 Serving Size: 1 pancake

Ingredients
1 cup all-purpose flour
1 teaspoon baking soda
1/8 teaspoon salt
2 tablespoons toasted wheat germ
1 cup nonfat buttermilk
1/4 cup unsweetened applesauce
2 teaspoons vegetable oil
1 large egg, lightly beaten
Cooking spray
Sugar-free maple syrup (optional)
Fresh fruit slices (optional)
Preparation
Combine first 4 ingredients in a medium bowl; make a well in center of mixture. Combine buttermilk and next 3 ingredients. Add buttermilk mixture to dry ingredients, stirring just until dry ingredients are moistened.
Heat a nonstick griddle or nonstick skillet coated with cooking spray over medium heat. For each pancake, pour 1/4 cup batter onto hot griddle, spreading to a 5-inch circle. Cook pancakes until tops are covered with bubbles and edges look cooked; turn pancakes, and cook other side.
Serve with maple syrup and fresh fruit, if desired (syrup and fruit not included in analysis).
Tip: One tablespoon of sugar-free maple syrup has 8 calories and 3 grams of carbohydrate.