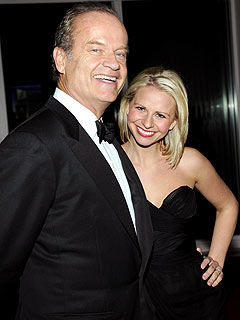 Former Frasier star Kelsey Grammar, 59, raised headlines (and eyebrows) recently when his fourth wife Kayte (who's 34) gave birth to his sixth child, a little boy named Gabriel.
And though you might think he'd be an old-hand (pardon the pun) at fatherhood, this time Grammar reports he's having a bit of a harder time, due to a painful tennis injury to his foot.
Appearing on Chelsea Lately, Grammar revealed, "I'm in a lot of pain. I've ordered a wheelchair but I have to push the baby around. I also have a two-year-old daughter Faith and she's a little more challenging because this thing really hurts. I'll have to put her on my lap."
Fortunately, it doesn't seem to be slowing down the near sexagenarian down too much, as his new show Partners debuted on FX on Monday (albeit to less-than-rave reviews.)
While Kelsey Grammar keeps on keeping-on through the pain of his foot injury, you don't have to put on the same brave face. If a tennis or other sports-related injury is causing you foot pain, come see your Houston podiatrist for treatment and relief.